VANCOUVER, British Columbia, Aug. 04, 2023 (GLOBE NEWSWIRE) -- Platinex Inc (CSE:PTX) (OTCPink:PANXF) (FSE:9PX) has launched exploration programs for its South Timmins Mining Joint Venture properties, in the Timmins, Ontario mining camp. The South Timmins Mining Joint Venture includes the Shining Tree, Heenan, and Mallard gold projects, following the formation of a joint venture with Fancamp Exploration (TSXV:FNC), which closed in March.

A Media Snippet accompanying this announcement is available by clicking on the image or link below: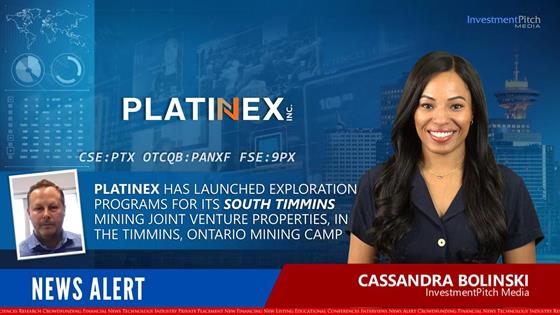 For more information, please view the InvestmentPitch Media video, including video comments from Greg Ferron, President and CEO of Platinex. The video is available for viewing on "InvestmentPitch" or on "YouTube". If the link is not available, please visit www.InvestmentPitch.com and enter "Platinex" in the search box.
Both companies contributing properties to the new joint venture, with Platinex holding a 75% interest and Fancamp holding a 25% interest. These projects lie along the Ridout-Tyrrell Deformation Zone ("RTDZ") in the Abitibi Subprovince, one of the most gold enriched geologic regions in the world, an area home to IAMGOLD/Sumitomo's Côté Gold project, Aris Mining's Juby deposit, and numerous other small-scale historic gold producers.
On July 24, work crews recommenced activity, and are currently advancing a comprehensive program at the Ronda/Central Area including Area 3 of the Shining Tree Gold Project. The central area hosts numerous gold occurrences and small historic producers, which largely focused on individual vein occurrences. The Joint Venture intends to assess the possible long-strike relationship between these occurrences, and the cross-strike potential, which has been largely ignored. The program includes prospecting, geochemical surveying, and geological mapping.
Additionally, stripping and trenching in the Ronda area is planned to better understand the mineralization controls on the surface. Ronda was identified as a priority area for further investigation, and this is the first work at Ronda since Platinex acquired the past producer. Exploration work is also planned in Area 1 which will include reconnaissance prospecting and geological mapping to target the RTDZ northwest of the Herrick area. Work at Shining Tree's Area 2 and Area 3 has been completed in July and results will be announced following the receipt of assays.
Work at Mallard will commence in August, and includes prospecting, geochemical surveying, and geological mapping. Anomalous gold mineralization occurs across the property along that trend, with the principal gold occurrences at the Camp and River zones, in the northwest portion of the property. The primary objective is to identify potential extensions of the Camp and River zones which were previously explored by Noranda and had revealed gold mineralization hosted within two northwest-oriented shear zones. Following the completion of this program, the company plans to conduct a diamond drilling program focused on Camp, River, and new targets generated in the area from the upcoming fieldwork.
The Heenan Gold Project, also located in the Swayze Greenstone belt, is located within the Woman River anticline and is centered on the Woman River iron formation. Previous work by Fancamp returned coincident geochemical and grab samples values ranging from <5 ppb to 1,000 ppb Au for B-horizon samples, and <5 ppb to 422 ppb Au for grab samples associated with a northwest-orientated section of the Woman River iron formation. A stripping program is planned to commence in September with drilling anticipated to follow upon the completion of the program.
Other assets include a 100% ownership interest in the W2 Copper-Nickel-PGE and Gold Project near the Ring of Fire. Notably, Barrick Gold has taken on a large land position adjacent to blocks held by Endurance Elements, the company's wholly owned subsidiary. The company also has an option to earn a 100% ownership interest in the Muskrat Dam Critical Minerals Project with a primary focus on Lithium. Platinex also holds a basket of NSR royalties on gold, PGE, and base metal properties in Ontario.
The shares are trading at $0.03. For more information, please visit the company's website, www.platinex.com, contact Greg Ferron, President and CEO, at 416-270-5042 or by email at GFerron@platinex.com.
About InvestmentPitch Media
InvestmentPitch Media leverages the power of video, which together with its extensive distribution, including a news release service, to position your company's story ahead of the 1,000's of companies seeking awareness and funding from the financial community. The company specializes in producing short videos based on significant news releases, research reports and other content of interest to investors.
Disclaimer
The information in this InvestmentPitch Media Ltd video is for the viewers information only. Platinex Inc. has paid a fee not exceeding $2,000 in cash to have its current news release produced in video format. The corporate information is based on information that is publicly available. Any information provided by InvestmentPitch Media Ltd, through its media services is not to be construed as a recommendation or suggestion or offer to buy or sell securities but is provided solely as an informational media service. InvestmentPitch Media Ltd makes no warranties or undertakings as to the accuracy or completeness of this information. All due diligence should be done by the viewer or their financial advisor. Investing in securities is speculative and carries risk.
CONTACT:
InvestmentPitch Media
Barry Morgan, CEO
bmorgan@investmentpitch.com