Vancouver, British Columbia, Feb. 02, 2023 (GLOBE NEWSWIRE) -- Terra Balcanica Resources Corp. ("Terra" or the "Company") (CSE:TERA; FRA:UB1) is pleased to announce additional, positive step-out drill results at the high-grade polymetallic Cumavici Ridge epithermal target within its flagship, 216 km2 Viogor-Zanik project, Bosnia and Herzegovina.

Highlights
High grade +50 m step out: Drillhole CMVDD005 returned 284 g/t AgEq over 10.0 m including 895.8 g/t AgEq over 2.0 m (see Figure 3) approximately 50 m west-northwest of CMVDD002;


Previously released intercepts at the Cumavici target returned similar high grades:



CMVDD001: 824.2 g/t AgEq. over 4.0 m including 1634.4 g/t AgEq. over 2.0 m
CMVDD002: 816.1 g/t AgEq. over 2.0 m
CMVDD003: 465.5 g/t AgEq. over 8.7 m including 1196.6 g/t AgEq. over 2.0 m (see Company news releases from September 8th and October 22nd, 2022);
CMVDD004, located 40 m northeast of CMVDD005, intersected 11 m of visible sulphide mineralization with assays to be released shortly (see Figures 2 and 3);


Exploration upside: CMVDD005 confirms consistent high grade, polymetallic mineralization at Cumavici Ridge. The mineralization is entirely open to the NW and down-dip to the SW. High-grade results confirm the Cumavici corridor as a shallow, polymetallic epithermal discovery with significant potential for expansion.


Terra Balcanica CEO, Dr. Aleksandar Mišković, commented: "Another Terra Balcanica drill step out at Cumavici Ridge and another significant, high grade intercept. The epithermal vein system discovered along the Cumavici corridor is now starting to take concrete shape and size in Terra's geological model with a potential for considerable expansions along both the NW-SE strike and downdip towards SW. The vein hosted mineralization we see in Cumavici Ridge drill core very much corresponds to high grade, massive sulphides that are observed in the neighbouring Sase Mine, operated by Mineco Ltd., which the Viogor-Zanik project surrounds. This suggests that the Cumavici discovery is its westerly epithermal projection along a 7.2 km long, structurally controlled lineament. What particularly excites us is the shallow nature of the system where semi-massive, high grade sulphides are rarely found below 80 m depth and frequently as shallow as 35 m depth. This will facilitate a rapid advancement of our Phase II drill program planned for this year aiming to further define the grade, size and geometry of this tabular, silver dominated system along several target areas identified at and near Cumavici Ridge. We are equally excited to quickly advance the other two Viogor-Zanik project target zones, namely: the new Brezani skarn discovery and the Olovine porphyry prospect, each of which is characterized by extensive alteration, geophysical and surface mineralization footprints. The Company will report further, 2022 Phase I Cumavici Ridge drill core assays over the coming weeks."
Assay Results
Drillhole
From (m)
To (m)
Length (m)
Ag (g/t)
Au (g/t)
Pb (%)
Sb (%)
Zn (%)
AgEq* (g/t)
CMVDD005


33.0
36.0
3.0
39
0.21
0.05
1.44
0.27
273.8
81.0
91.0
10.0
75
0.78
0.40
0.68
0.61
284.0
Incl.
86.0
88.0
2.0
258
2.85
1.42
1.70
1.89
895.8
CMVDD001
29.0
33.0
4.0
132
0.84
2.12
1.85
4.59
824.2
Incl.
30.0
32.0
2.0
261
1.62
4.20
3.70
9.10
1634.4
CMVDD002
45.0
47.0
2.0
144
0.23
4.27
0.44
8.26
816.1
CMVDD003
89.0
97.7
8.7
105
0.81
0.70
1.20
1.17
465.5
Incl.
91.0
93.0
2.0
289
1.16
2.03
3.50
3.16
1196.6
Table 1. Assay results of key mineralized intervals from Cumavici Ridge drillholes. Interval lengths reported are drilled lengths, not true widths. Silver equivalents ("AgEq") are based on assumed metal prices of US$1950/oz for gold (Au), US$18.00/oz for silver (Ag), US$1.00/lb for lead (Pb), US$4.50/lb for antimony (Sb) and US$1.50/lb for zinc (Zn). *Assumed metal recoveries of 90% Au, 93% Ag, 94% Pb and Zn, 90% Sb are based on published metallurgical tests for analogous Oligo-Miocene, epithermal deposits in the Balkans (CMVDD001-003; see the Company news releases from September 8th and October 22nd, 2022). Values are rounded to nearest hundredth except Ag which is rounded to the nearest whole number.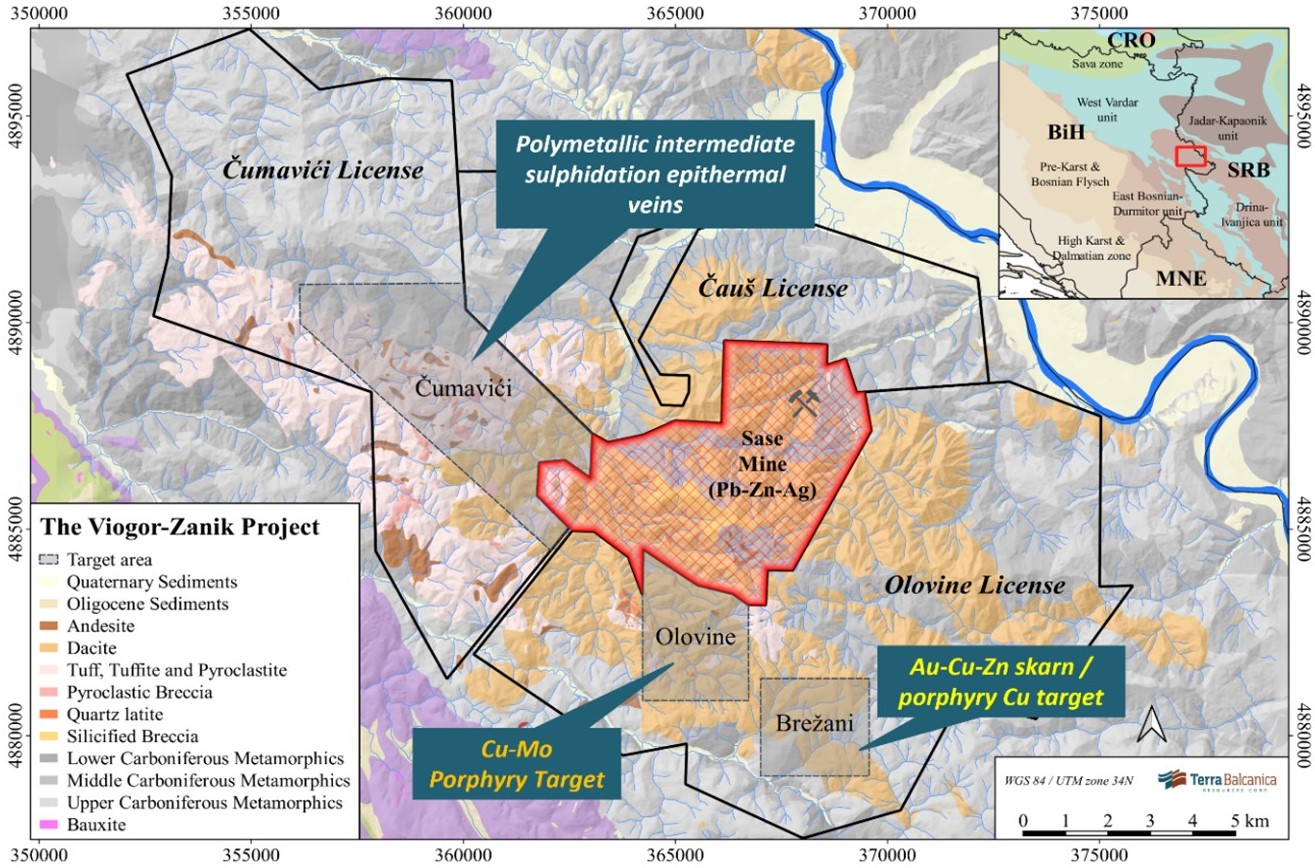 Figure 1. The 216 km2 Viogor-Zanik project in eastern Bosnia and Herzegovina with the key drill target areas and their associated styles of mineralization: (i) the vein hosted epithermal Cumavici corridor, (ii) the Olovine porphyry target and (iii) the Brezani gold skarn/porphyry system. (Click to view image).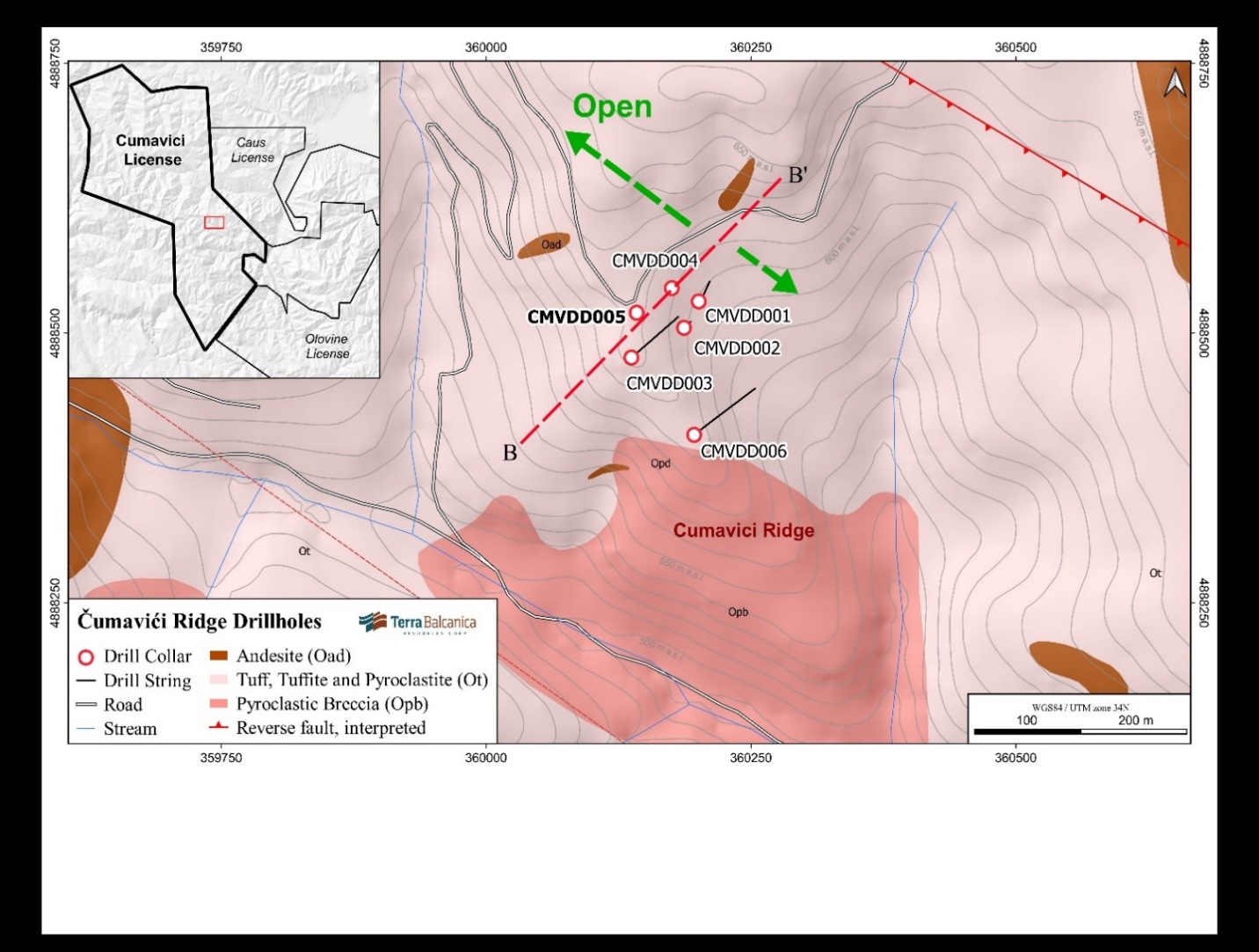 Figure 2. Geological map of Phase I drillholes at Cumavici Ridge. Drillholes CMVDD004 and CMVDD005 are NW step-outs from the initial drill fence which intersected Ag-Zn-Pb mineralization (Click to view image).
Drillhole CMVDD005 targeted the down-dip extension of the lateral step out confirmed by CMVDD004 with a 40 m collar location step out to the west-southwest. CMVDD005 intercepted 2 mineralized intervals, evidencing the branching nature of the main Cumavici vein including 285 g/t AgEq over 10 m from 81 m. Mineralization consists of massive sulphide veins and breccias cemented by quartz, calcite, sphalerite, galena, and stibnite.
Drillhole CMVDD006 successfully intercepted a continuation of the mineralized Cumavici structure 125 m to the SE from CMVDD005. Mineralization was disseminated, in broad zones of fault gouge and breccia indicating a pinching and swelling nature to the massive sulphide zones. An association of sulphides and brecciated calcite within the clay gouge is noted, possibly due to precipitation of the mineralization during active fault movement.
| | | | | | | | |
| --- | --- | --- | --- | --- | --- | --- | --- |
| Hole ID | Easting | Northing | Elevation (m) | Dip | Azimuth | Depth (m) | Recovery (%) |
| CMVDD005 | 360141 | 4888516 | 621 | -85 | 050 | 99.0 | 94.4 |
| CMVDD006 | 360195 | 4888403 | 611 | -68 | 052 | 154.6 | 93.7 |
Table 2. Drillhole collar survey information for the reported Cumavici drillholes (WGS84/UTM Zone 34N).
Figure 3. Section of drillholes CMVDD004 and 005. CMVDD005 reporting two mineralized intervals at 33 m and 81 m. Assays are pending for CMVDD004 which intersected 11 m of visible sulphides (see Company news release from January 11th, 2023). Mineralization is open down-dip to the southwest (Click to view image).
Further Drilling: Assay results from CMVDD004, which intersected 11 m of visible sulphide mineralization from 43 m depth will be released shortly. Other assays to be released include drill testing of the Joseva target, which is 2.3 km to the SE of Cumavici Ridge. The 2023 drill program will systematically test the high-grade Cumavici vein along strike to the NW/SE and down-dip SW where the mineralization is open and untested.
QAQC
Half core (PQ3 and HQ3) samples were delivered by truck to ALS Bor, Serbia for sample preparation and analysis at the ALS laboratory Loughrea, Ireland an ISO/IEC 17025:2017 certified testing laboratory. Sample preparation PREP-31BY method was used on all core samples. This involves crushing to 70% less than 2 mm, rotary split 1kg and pulverizing the split to greater than 85% passing 75 microns. Gold was assayed by 30g fire assay with ICP-AES finish (Au-ICP21). Analyses of silver and base metals were completed by highly oxidising digestion with HNO3, KClO3 and HBr (ASY-ORE) and the final solution in dilute aqua regia is determined by ICP-AES (ME-ICPORE). Analysis in CMVDD006 was undertaken by ICP MS after a four-acid digest (ME-MS61). Control samples, comprising certified reference materials (CDN-ME-1811), quarter core field duplicates and blanks were inserted at a rate of 5% and investigated as part of the company's quality assurance and quality control program.
Qualified Person
Dr. Aleksandar Mišković, P.Geo, is the Company's designated Qualified Person for this news release within the meaning of National Instrument 43-101 Standards of Disclosure of Mineral Projects ("NI 43-101"). Dr. Mišković has reviewed and validated the information contained in this news release as factual and accurate.
About the Company
Terra Balcanica is a polymetallic exploration company targeting large-scale mineral systems in the Balkans of southeastern Europe. The Company has 90% interest in the Viogor-Zanik Project in eastern Bosnia and Herzegovina, 100% of the Kaludra and Ceovishte mineral exploration licences in Serbia. The Company emphasizes responsible engagement with local communities and stakeholders. It is committed to proactively implementing Good International Industry Practice (GIIP) and sustainable health, safety and environmental management.
ON BEHALF OF THE BOARD OF DIRECTORS
Terra Balcanica Resources Corp.
"Aleksandar Mišković"
Aleksandar Mišković
President and CEO
For the complete information on this news release, please contact Aleksandar Mišković at amiskovic@terrabresources.com, or visit our website at www.terrabresources.com/en/news.
Cautionary Statement
This news release contains certain forward-looking information and forward-looking statements within the meaning of applicable securities legislation (collectively "forward-looking statements"). The use of any of the words "will", "intends" and similar expressions are intended to identify forward-looking statements. These statements involve known and unknown risks, uncertainties and other factors that may cause actual results or events to differ materially from those anticipated in such forward-looking statements. Such forward-looking statements should not be unduly relied upon. Actual results achieved may vary from the information provided herein as a result of numerous known and unknown risks and uncertainties and other factors. The Company believes the expectations reflected in those forward-looking statements are reasonable, but no assurance can be given that these expectations will prove to be correct. The Company does not undertake to update these forward-looking statements, except as required by law.